The Integrated Photonic Technologies Center is part of the INPHOTEC Foundation of the Scuola Superiore Sant'Anna, a no-profit legal entity created according to the Italian Law 388/2000.. Its mission is to provide fabrication facilities and technology platforms for research, prototyping and production of high added-value components and circuits to academics and industrial SME.
ST is a global semiconductor leader delivering intelligent and energy-efficient products and solutions that power the electronics at the heart of everyday life. ST's products are found everywhere today, and together with our customers, we are enabling smarter driving and smarter factories, cities and homes, along with the next generation of mobile and Internet of Things devices. By getting more from technology to get more from life, ST stands for life.augmented.
In 2017, the Company's net revenues were $8.35 billion, serving more than 100,000 customers worldwide. Further information can be found at www.st.com.
ficonTEC is a premier supplier of semi and fully-automated micro-assembly and testing solutions for the photonics industry. These solutions are cutting-edge and are independent of the device material and of the specific application the device is targeting. Additionally, our modular system architecture is scalable from early device development environments, over new product introduction (NPI) and all the way up to high-volume requirements. A globally installed base of over 500 systems is already serving integrated photonics applications in telecom and datacom sectors, in sensing applications ranging from biomedical to automotive, in high-power diode laser assembly, and much more.
Discovery Semiconductors, Inc. is an industry leader in manufacturing ultrafast, high optical power handling InGaAs photodetectors, RF over fiber optical receivers, 5G narrowband optical receivers, balanced optical receivers, extended wavelength photodetectors, clock and data recovery units and several custom products for applications ranging from analog RF links to ultrafast digital communications. Discovery began in 1993 and has grown into a global enterprise by leading the market with high-technology products for 10, 40, and 100 Gb applications. Discovery's instrumentation and systems include the Lab Buddy and Optical Coherent Receiver System and Configurable Lab Buddy platform. Manufacturing for Discovery's product line is done in the state-of-the-art, class 100, clean room in Ewing, NJ USA. Discovery Semiconductors maintains ISO 9001:2015 and 14001:2015 certifications.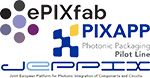 ePIXfab is the European alliance of companies and research institutes that promotes silicon photonics science, technology and applications. ePIXfab members cover the entire supply chain of silicon photonics prototyping and manufacturing. ePIXfab organizes training and workshops and is involved in roadmapping activities.
PIXAPP is the world's first open-access Photonic Integrated Circuit (PIC) Assembly and Packaging Pilot Line, and helps users exploit the breakthrough advantages of PIC technologies by providing a single-point access to PIC assembly and packaging. PIXAPP helps companies to move from prototyping to low-volume fabrication, by providing an easy-access route to transferring R&D results to the market.
JePPIX represents the European InP and SiN photonic integrated circuit (PIC) eco-system. We bring together the complete value chain for PIC platforms through multiproject wafer runs. We accelerate the technology enabling major advances between R&D in academy and industry and, create roadmaps of the future evolution of technology, markets and eco-system.
WE INVITE YOU TO ATTEND OUR SPECIAL TALK BY PETER O'BRIEN ON "EUROPEAN OPEN ACCESS PILOT LINES FOR INTEGRATED PHOTONICS"
SEPTEMBER, 24 at 14:00 (MO3A.3 ROOM AURELIA)